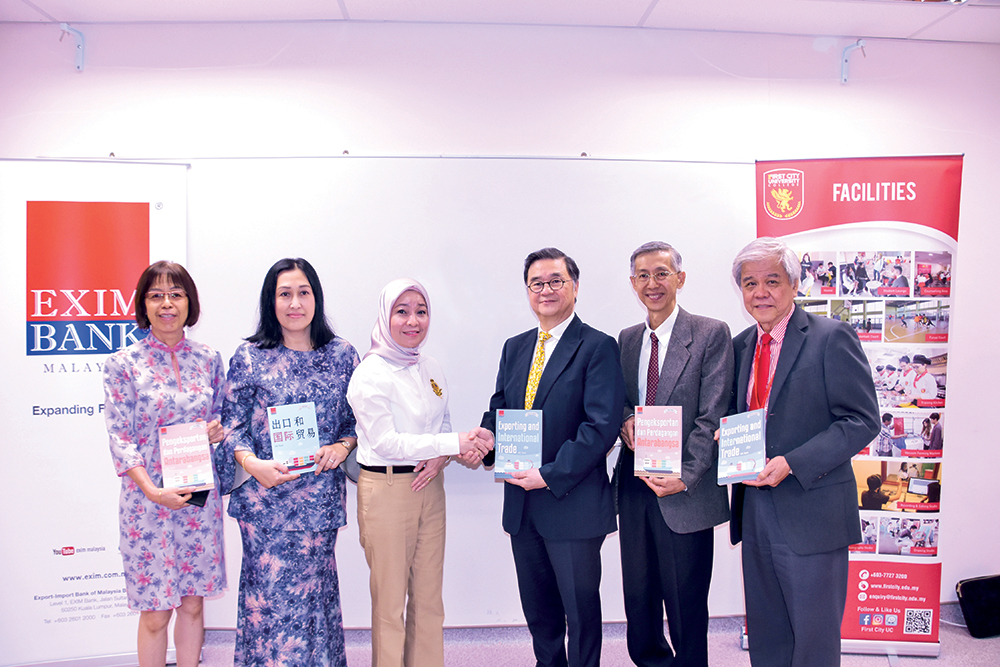 EXIM Bank's President/CEO, Puan Norzilah Mohammed (third from left) with First City University College director, Tan Sri Teo Chiang Liang, flanked by representatives from both organisations
As a key export bank in the nation, EXIM Bank continued to distribute copies of its special edition book entitled 'Exporting and International Trades', written by Mr. AB Teoh, to institutions of higher learning. The specially designed book was made available in Bahasa Malaysia, English and Mandarin. Over 2,000 copies were handed over to universities in Malaysia during the period under review. These included First City University College (FCUC), University Tunku Abdul Rahman (UTAR) in Kampar, Perak; Multimedia University (MMU) in Air Keroh, Melaka; Asia Pacific University (APU) in Bukit Jalil; and University Tun Abdul Razak (UNIRAZAK) in Kuala Lumpur. The Bank chose to present universities with the book, as it provides a good reference for students wishing to be in the export-import business.
The book presentation ceremony was kicked off on 2 October 2018 with the handing over of books by Pn. Norzilah Mohammed, President/Chief Executive Officer (CEO) of EXIM Bank to Tan Sri Dato' Teo Chiang Liang, Director of FCUC, witnessed by faculty members of FCUC and EXIM Bank representatives. It was then followed by a campus and library tour.