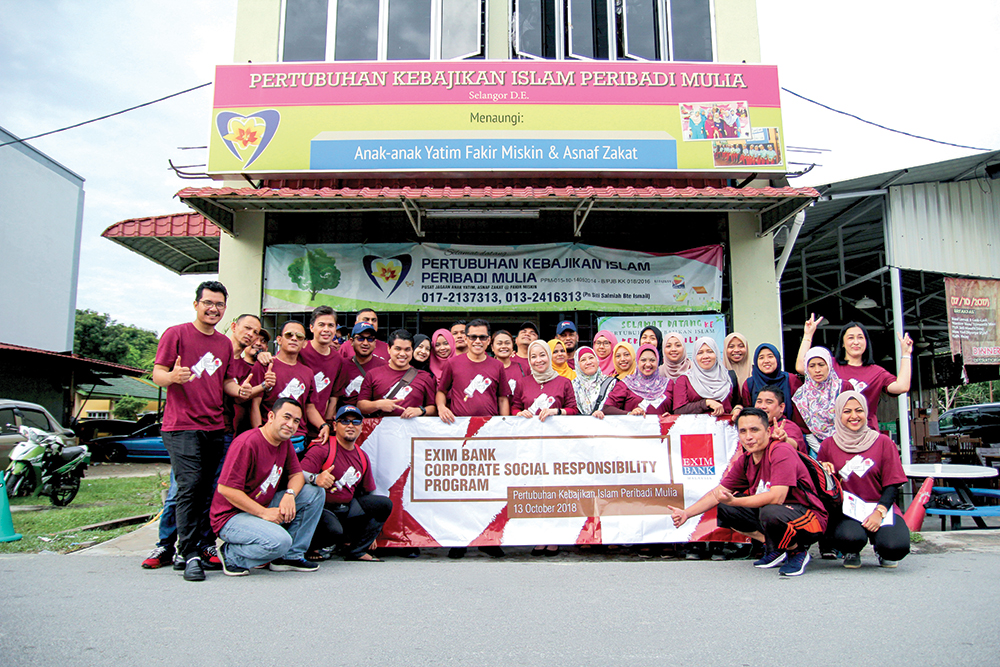 As one of the country's leading financial institutions, the Bank plays a crucial role in fulfilling the needs of the people towards community development, apart from contributing to the economic growth of the country.
EXIM Bank targeted three social endeavours in need of cash, in-kind contribution and assistance to help ease their operational cost during the year. These included Rumah Seri Kenangan Cheng Melaka (RSKCM), a welfare home for the elderly; Yayasan Toh Puan Zurina (YTPZ) a foundation that runs a hemodialysis centre for the underprivileged; and Pertubuhan Kebajikan Islam Peribadi Mulia at Kg. Sg. Kantan, Kajang (PKIPM).
RSKCM has been taking care of the elderly since 1982 through public and government donations. The centre currently accommodates about 159 old folks from various ethnic backgrounds, and EXIM Bank has extended its assistance to this home as well.
YTPZ started its operations in 2015 and offers 160 hemodialysis machines that provide free treatment to the underprivileged. The Bank contributed cash to help ease operating expenses for these welfare organisations.
For PKIPM, EXIM Bank also held a 'gotong royong' activity to help refresh the home's environs. PKIPM was established on 25 December 2012 by Pn. Siti Salmiah Ismail. This home caters to a total of 62 children, who are abandoned or from poor families. Currently, six caretakers mind children ranging from the age of two up to 17-years-old. Monthly expenditure for the home averages RM30,000 and this is sourced solely through donations from corporate companies, non-governmental organisations (NGOs), charitable organisations and personal donations.
34 bank volunteers, together with the orphans, spent half a day sprucing up the house with new coats of paint, installing wardrobes and new rubber mats. Apart from the activities, EXIM Bank also purchased various household items for the orphanage, including a washing machine, stand fans and kitchen appliances worth about RM5,000. Another RM5,000 contribution was made as part of the Bank's donation towards the home's upkeep.