PAHANG, Tuesday (4 December 2018) – EXIM Bank today continues with its CSR commitment in the area of elephant conservation, education and elephants' welfare at the Kuala Gandah National Elephant Conservation Centre (NECC) by adopting a handicapped baby elephant named Elly.
Last year, EXIM Bank refurbished and redesigned the educational materials for Kuala Gandah NECC as well as funding a custom-made prosthetic leg for a 13 year old female elephant, 'Selendang'.
This year, EXIM Bank goes one step further by adopting the two year old baby Elly and provides her with a prosthetic leg, a new portable paddock for daily mobility exercise and a one-year supply of multivitamins and other supplements. She lost her front lower right foot from a trap laid by illegal hunters and was found unconscious at Kg. Sokut Toku, Tanah Merah, Jeli Kelantan. Elly was then rescued by Terengganu's Elephant Conservation Centre to receive its early medical treatment before being transferred to NECC for her recovery process.
On hand to launch the adoption program at Kuala Gandah was EXIM Bank's President/Chief Executive Officer (P/CEO), Puan Norzilah Mohammed witnessed by En. Nasharuddin Othman, Head of Kuala Gandah NECC, followed by a tour around Kuala Gandah NECC and video presentation on the elephants.
Facts about elephants:
Elephants are among the world's most intelligent, sensitive animals and possess both empathy and self-awareness. They live in close family groups that are now being torn apart by increasing number of threats caused by human activities. Their natural habitat and migration routes have been fragmented by development and industrial mono-crops such as palm oil and rubber tree plantations which has destroyed millions of hectares of forest ecosystems.
Elephants are very important to humans and are titled as keystone species because they create and maintain the ecosystems and make it possible for a myriad of plants and animal species to live in those environments as well. The loss of elephants gravely affects the biodiversity of the environment and causes major habitat chaos. To lose the elephants is to lose an environmental caretaker.
How to get there: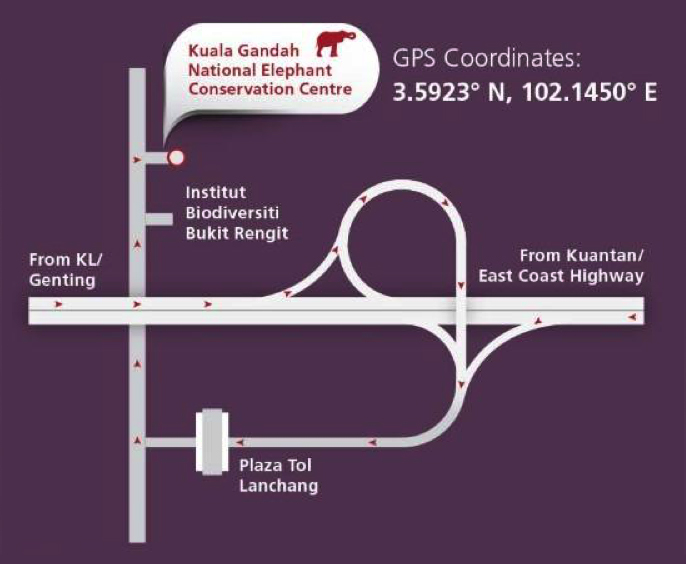 From Kuala Lumpur, take the Karak / East Coast Expressway and exit at the Lanchang Toll Plaza (Exit 816). After the toll, turn right at the junction and just follow the signage leading towards Kg Bolok and the Orang Settlement. This route will lead you to the entrance of the Kuala Gandah National Elephant Conservation Center.This journey from KualaLumpur is 120 km and will take 2 hours.