PAHANG, Thursday (10 August 2017) – As part of its CSR environmental program, EXIM Bank will be disseminating a myriad of information about the elephants, its characteristics, the natural habitat and the issues In educating the public and creating awareness about Kuala Gandah National Elephant Conservation Center (NECC).
Working hand-in-hand with Position Periwity, Kuala Gandah NECC and the media, EXIM Bank has redesigned the look of Kuala Gandah NECC information center and has taken up a series of public awareness advertisements from 8 August to 12 August to coincide with the World Elephant Day on 12 August 2017.
During the World Elephant Day is Saturday, various activities are being planned by the Kuala Gandah NECC, which includes coloring contest, 'elephant skiers', elephant talks, treasure hunt and smartphone photography contest. The public are invited to visit Kuala Gandah NECC and the entrance is free.
Elephants are among the world's most intelligent, sensitive animals and possess both empathy and self-awareness. They live in close family groups that are now being torn apart by increasing number of threats caused by human activities. Their natural habitats and migrations have been fragmented by development and industrial mono-crops such as palm oil and rubber trees plantations which have destroyed millions of hectares of forest ecosystems.
Elephants are very important to humans and are titled as keystone species because they create and maintain the ecosystems and make it possible for a myriad of plants and animal species to live in those environments as well. The loss of elephants gravely affects the biodiversity of the environment and causes major habitat chaos. To lose the elephants is to lose an environmental caretaker.
The event was kicked off by showcasing EXIM Bank's Contributions at Kuala Gandah NECC which was launched by EXIM Bank's Chairman, YBhg. Datuk Mat Noor Nawi. Among the initiatives taken up by EXIM Bank is the refurbishment of Kuala Gandah NECC Information Center with up-to-date information and facts about the elephants in poster size medium, newly designed Welcome Board and visitor's pamphlet in dual language and the recent donation of a Prosthetic leg for a handicapped female elephant named 'Selendang'.
Also present at the launch, was En. Nasharuddin Othman, Head of Kuala Gandah NECC and EXIM Bank's Management Committee members. This initiative marks yet another milestone in EXIM CSR projects moving forward.
How to get there: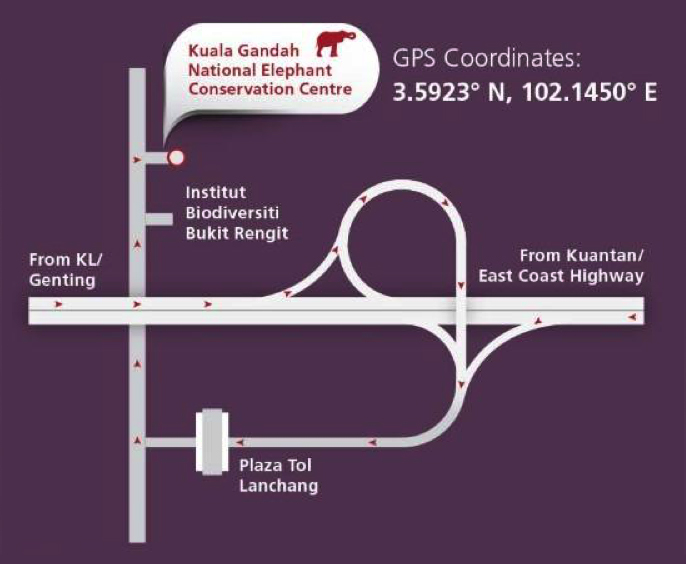 From Kuala Lumpur, take the Karak / East Coast Expressway and exit at the Lanchang Toll Plaza (Exit 816). After the toll, turn right at the junction and just follow the signage leading towards Kg Bolok and the Orang Settlement. This route will lead you to the entrance of the Kuala Gandah National Elephant Conservation Center.This journey from KualaLumpur is 120 km and will take 2 hours.