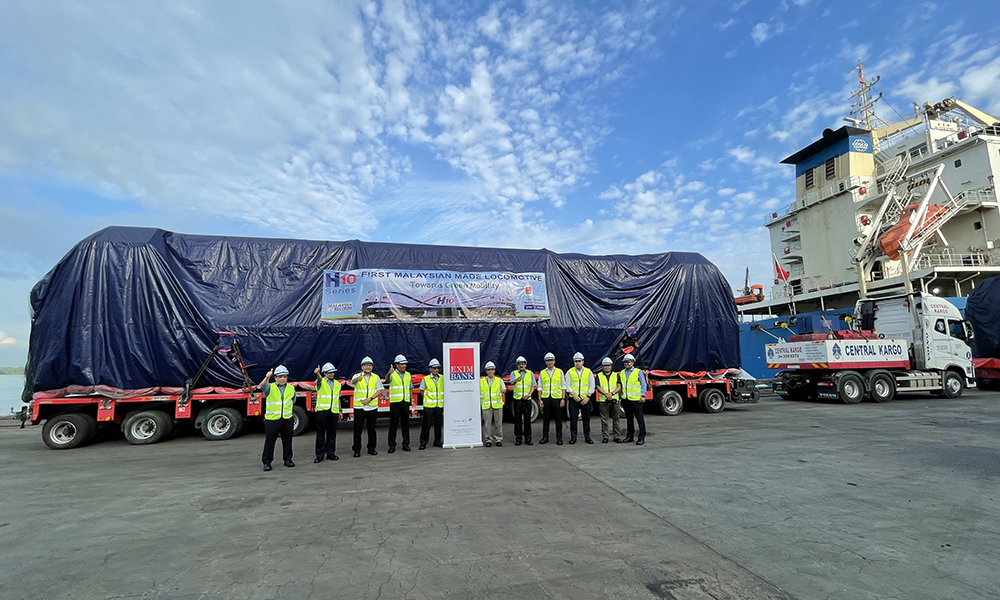 Kuala Lumpur, 1 November 2021 — SMH Rail's 'H10 Series', the first Malaysian built 'Green' locomotives are ready to be handed over to Tanzania Railways Corporation (TRC). This defining moment recognises SMH Rail's capability as the first Malaysian rolling stock manufacturer to export locomotives to the global market that provides safe, reliable and sustainable transport solutions.
Launched in August 2021, the first batch of the' H10 Series' locomotives will be received by TRC, and the momentous occasion will be graced by the Works and Transport Minister of Tanzania, Prof. Makame M. Mbarawa. These locomotives were built for use by the African freight operators with TRC as the launch customer. Energy-efficient, eco-designed, the 'H10 Series' diesel- electric locomotives will meet the Tanzanian Government railroad's unique operational needs through seamless connectivity and enhanced accessibility.
"We are proud to handover the first batch of the 'H10 Series' locomotives to our partner, Tanzania Railways Corporation and we are confident that these locomotives will bring positive enhancements to the African Rail cargo industry. SMH Rail would like to share this achievement with everyone involved in this project especially our partners and local SMEs for their immense efforts towards the successful completion and delivery of these locomotives. I believe as we move forward with concerted efforts, we will not only be able to boost the Malaysian-African relations but further drive economic empowerment through export," said Yang Berbahagia Datuk PK Nara, Chairman and Managing Director of SMH Rail.
Yang Berbahagia Datuk PK Nara also added "SMH Rail is fully appreciative to EXIM Bank of Malaysia for its relentless support in financing the project despite the challenging pandemic conditions".
EXIM Bank of Malaysia applauded SMH Rail on achieving a momentous milestone when it successfully rolled out and handed over the first batch of the "H10 Series" – the Malaysian built 'Green' locomotives – to Tanzania Railways Corporation (TRC), affectively earning itself a place amongst the legion of world class players in the global rail industry.
The Bank is also proud to be the financier of such a cutting-edge 'green' tech project that is in line with its mandate to promote and facilitate cross-border trade and investments of Malaysian businesses such as SMH Rail. EXIM Bank's Banking Team led by Chief Business Officer, Encik Faidzel Adham Sohari, was also present during the handover of the locomotives to TRC.
SMH Rail's success can also be attributed to a diverse and highly skilled workforce with more than 60 percent of the 'H10 Series' locomotive content being locally manufactured at its internationally- certified manufacturing facility. From shaping industry trends with cutting edge technologies, value driven solutions and a strong talent pool, SMH Rail acknowledges that greater collaboration will be key to increasing awareness of opportunities in the sector and ensuring that rail projects are committed to promote positive socioeconomic change.
Innovation in engineering and technology advancement fuels rail's commitment to protecting the environment and mitigating climate change. With the aim Towards Green Mobility, the 'H10 Series' locomotive redefines mobility in rail sustainability by reducing carbon emissions up to 75%, lower highway congestions, and are four times more fuel-efficient than road freight transport on average.
The rail industry can provide substantial benefits for the energy sector through fuel consumption as well as for the environment. According to Yang Berbahagia Datuk PK Nara, "Driving mobility with a human touch is our business ethos. In rail sustainability, by diversifying energy sources with efficiency in mobility, railways can lower transport energy use; reduce carbon dioxide and local pollutant emissions. The future of rail, driven by innovation in engineering and technology will enable the railways achieve safety milestones whilst maintaining a competitive edge in today's fast paced global economy to be amongst the most energy efficient modes of transport for freight and passengers".
The 'H10 Series' locomotives not only advance SMH Rail's exportability but also further enhance Malaysia's efforts to bridge connectivity, increase supply chain access, accelerate industrialisation and promote cross-border trade.
-END-
About SMH Rail
From the first burst of smoke rising above a steam engine to the hum of urban mass transit today, rail is an industry built on innovation. SMH Rail is proud to continue that legacy, designing and delivering innovative solutions for passenger and freight transportation.
SMH Rail is a leading rolling stock manufacturing and maintenance company, shaping the industry trends with cutting edge technologies, value-driven solutions, and a strong talent pool. Our passion is reinforced by extensive global experience working with partners in the rail industry to deliver effective turnkey solutions, forward thinking engineering products and cost-effective m