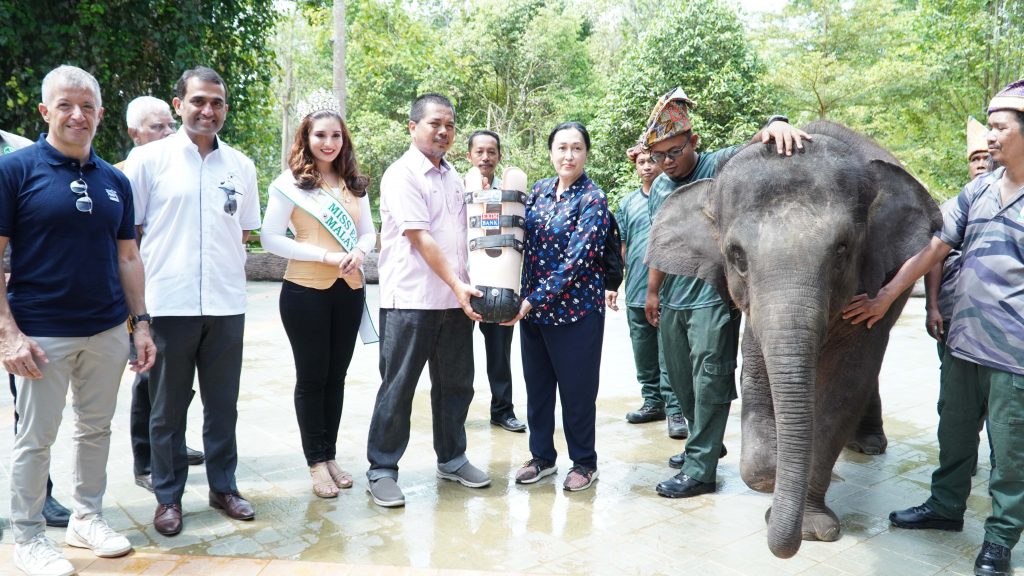 KUALA LUMPUR, 22 August 2022 – Export-Import Bank of Malaysia Berhad (EXIM Bank) reaffirmed its pledge and support to elephant conservation and welfare during the World Elephant Day (WED) celebration and carnival held recently at the National Elephant Conservation Centre (NECC) in Kuala Gandah, much to the excitement of the media and public.
Arshad Mohamed Ismail, EXIM Bank President and Chief Executive Officer said: "As part of the Bank's Corporate Social Responsibility (CSR) environment and sustainability efforts, we are proud to continue our support for the care and sustenance of baby Elly, an orphaned and handicapped baby elephant. This initiative is in line with the UNSDG #15: Life on Land, which among others, is to halt biodiversity loss."
He added that the Bank's CSR initiatives are anchored on a clear and simple goal – to serve – be they clients, shareholders, employees, government regulators or the general public, where the Bank aims to serve with honesty, transparency, respect and integrity. Every effort starts off small, but through time and commitment, they grow in tandem with the business, as the Bank strives to make a long-lasting impact in society. Appreciating the contributions of its corporate sponsors like EXIM Bank, Dato' Abdul Kadir Bin Abu Hashim, Director General of the Department of Wildlife Protection and National Parks (DWNP or PERHILITAN) Peninsular Malaysia said that PERHILITAN hopes that all Malaysians, NGOs and stakeholders will come together to support the government to protect, maintain and appreciate the country's biodiversity especially wildlife, such as elephants, as they bring untold value to our lives and heritage.
For EXIM Bank, the engagement and commitment to wildlife started as early as 2016 with the sponsoring of Macaw Birds in Zoo Negara and was then extended to raising awareness on elephants in conjunction with the World Elephant Day (WED). Working-hand-in-hand with the NECC and the media, EXIM disseminated a myriad of information about elephants, its characteristics, natural habitat, and issues challenging their survival, as well as releasing a series of public awareness advertisements during the lead-up to WED in 2017. The Bank also went on to refresh the look of Kuala Gandah's NECC Information Centre, contributed a newly designed Welcome Board and redesigned the dual language visitor pamphlet to elevate the sanctuary's attractiveness in the public's eye.
The Bank's association with handicapped elephants started in 2017 when it gifted a prosthetic leg for a handicapped elephant named Selendang, which suffered a permanent disability after walking into a poacher's wire snares. The prosthetics allowed it to move easily, and her body language showed much comfort and agility with the leg.
The following year, the Bank's CSR commitment to elephants continued when it adopted baby Elly, where it provided her with a prosthetic leg, a portable paddock for her daily mobility exercise and a one-year supply of multivitamins and other supplements. Elly lost her front lower right foot from a trap laid by illegal hunters and was found unconscious at Kg. Sokut Toku, Tanah Merah, Jeli, Kelantan. Elly was then rescued by Terengganu's Elephant Conservation Centre to receive early medical treatment before being transferred to NECC for her recovery.
Since 2018, EXIM Bank has continued the care and sustenance of baby Elly and has seen to the twice-yearly replacement of her prosthetic leg and the yearly supply of multivitamins and other supplements to aid her growth. The Bank is proud to share that baby Elly is alive and kicking at the NECC and entertaining all that visit her there.
Elephant conservation has been a near and dear cause of the Bank, as elephants are important keystone species since they create and maintain our natural ecosystem, making it possible for a myriad of plants and animal species to live in the environment that they are in. The loss of elephants gravely affects the biodiversity of the environment and causes major habitat chaos. This is something we all need to be aware of as elephants' survival is key to our survival too.
-END-
About EXIM Bank of Malaysia Berhad
The Export-Import Bank of Malaysia Berhad (EXIM Bank) was incorporated on 29 August 1995 and is wholly-owned by the Government of Malaysia. The Bank has assisted a diverse range of Malaysian business in various sectors in their global ventures. EXIM Bank takes pride in meeting its mandated role of stimulating and enhancing the competitiveness of Malaysian industries for exports and investments globally via the provisioning of internationally and domestically competitive banking and insurance products and advisory services. The Bank also offers Shariah-compliant financing and Takaful instruments. For more information, visit www.exim.com.my.
_____________________________________________________________________________
For further information, kindly contact:
Azmin Hamzah
Head Corporate Communication Department
Export-Import Bank of Malaysia Berhad (EXIM Bank)
Level 1, EXIM Bank, Jalan Sultan Ismail,
50250 Kuala Lumpur.
T : +603 2601 2371
F : +603 2601 2469
W : www.exim.com.my
Vino Nair
Assistant VP II Corporate Communication Department
Export-Import Bank of Malaysia Berhad (EXIM Bank)
Level 1, EXIM Bank, Jalan Sultan Ismail,
50250 Kuala Lumpur.
T : +603 2601 2383
F : +603 2601 2469
W : www.exim.com.my